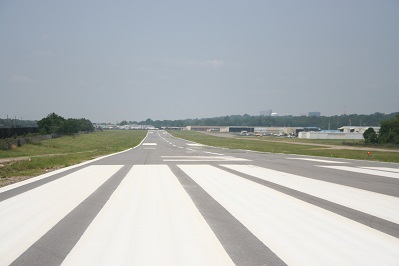 The Jim Hamilton – LB Owens Airport (CUB) has a single runway configuration designated 13 - 31. It was constructed in the early 1980s in order to achieve an aircraft traffic pattern that minimized overflight of the adjacent residential neighborhood to the northeast of the Airport. With a total length of 5,011 feet and a width of 75 feet it is designed to service routine critical aircraft within the Airport Reference Code (ARC) B-II, but can accommodate larger aircraft as needed.  The published pavement strength is 44,500 lbs. single wheel (SW) and 66,000 lbs. dual wheel (DW) configurations with a Pavement Classification Number (PCN) of 15.
There is a displaced threshold of 391 feet on the Runway 31 Approach End, and a blast pad / overrun area of 390 feet on the Runway 13 Approach End. Pavement within the displaced threshold area can be used for takeoffs, but not for landings.  Pavement within the blast pad / overrun area is not available for aircraft maneuvering.
The Taxiway system at CUB is comprised of Taxiway "A" as a full parallel servicing taxiway with five "stub" taxiways for Runway ingress or egress. These are designated as "A-1" through "A-5." Ground vehicle access to the runway is not authorized at any time unless the runway is closed and permission is provided by the Airport General Manager.  The Manager performs daily Foreign Object and Debris (FOD) and airfield condition inspections.
In addition to edge lighting and directional signage, there are "Distance Remaining" Signs that indicate to the pilot the remaining distance, in thousands of feet, until the usable pavement of the runway comes to an end. The Runway is also equipped with Runway End Identification Lights (REILs) as well as two-box, Precision Approach Path Indicator (PAPI) lights on both approach ends.
During the growing season, the runway is typically closed for one-hour, every three- weeks for shoulder mowing.
For more information on the Runway and published approaches, check the latest edition of FAA's approach plates and the Airport Facility Directory.